If you've been in the HAIR industry for a while, you know hair brands are a dime a dozen.
They all promise to provide high-quality hair extensions and help you achieve the perfect look every day.
Just take a look: A simple "hair extensions" Google Search generates a TON of hair sellers.
Unfortunately, a lot of these sellers don't deliver on their promises. And as a newbie, it can be downright difficult separating quality hair products from those merely selling false hope.
In this article, I review UNice hair and see whether it lives up to the hype.
What Is UNICE?
Unice (created by Unice Co., Ltd) is a hair brand that is known for its human hair products. And UNice Hair is a global beauty e-Commerce business based out of XuChang, China.
Their hair products are designed to help you look and feel beautiful every day.
Now I'm going to give an honest review based on my real of experience purchasing their products. I will show you the value of these collections, give my opinion, and let you decide for yourself if UNice is worth the price.
Let's drive in!
UNice Hair Overview
Unice has slowly been becoming more of a full-fledged hardware company. In its expansion comes a structural reorganization: UNice Innovations is now the parent brand for four key sub-series, including Icenu, Kysiss, Banicoo and Bettyou.
Each series focuses on a particular kind of hair products. For example, Kysiss is for UNice Innovations' 8A virgin hair products and Bettyou for UNice Innovations' hair wigs. The company is announcing several hair products under these sub-series, but several have also already been announced and on the market.
But for now, the Kysiss Series, Icenu Series, and Banicoo Series are REALLY confusing!
Why?
Because all of these series look similar to each other but come with varying features and at different price-points.
Here's what you need to know.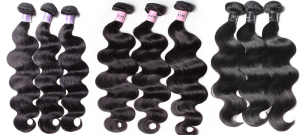 The question is:
What's the difference among these series?
Well, there are three major differences, including Distribution Ratio, Origin, and Grade of raw hair material.
And actually, these elements also determine a product's price and worth.
I'll explain…
The "Origin" term is quite easy to understand. The COLLECTION of hair raw material is the first step while manufacturing.
I'm sure you'll agree, hair raw material can be from China, India, Brazil, Burma, Bengal, Peru, etc.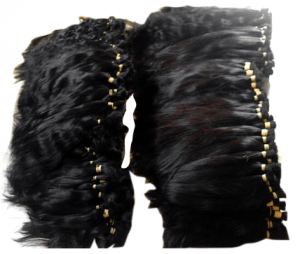 You are probably wondering:
What is the "Distribution Ratio"?
Before I go into the term, let's see an additional process known as "Cleaning and Sorting".
Hair selection is a critical step in production. Yes, the hair vendor makes a different range based on the quality of end-product.
And keep this in mind:
All selected hair needs to be washed to sanitise, wet tangle tested, dried. These hairs are then sorted into varying groups by texture, length, colour level output.
Next, it's also an extremely critical production phase.
Let's break it down:
First, hair manufacturers will determine what quality and length of the end-products are.
Second, they take the different length of some small bundles according to a certain percentage. And this process is called Distribution. As for the specific RATIO of each bundle, no one knows except themselves.
Note: Each bundle is measured individually with a measuring tape and combed so that all of the hairs are the same length.
Finally, these bundles are then tied together with a rubber band to create one bundle.
In other words: the end-product is comprised of multiple lengths of the hair bundle, resulting in hair that is thickest at the top, tapers at the middle and is thin on the ends.
For example, if you purchase a 24 inches hair bundle, the hair probably includes three kinds of different lengths (called 'three-level' ):
From the graph listed above, you can see that a 24" hair bundle might contain only 25% of the hairs that are measured approx 24", and 75% different length hairs.
Can you imagine?
If you are paying for 24″ hair, but only getting 1/4 of the length. Honestly, you'd rightfully be upset.
Sure enough, the higher percentage of the full-length hairs, the more expensive the hair extension.
Now, let's look at the third element that affects hair product price.
The "Grade" is a term as an easy way to explain to you "what is the quality of raw hair material".
Overall, the biggest difference among UNice's three series is the ratio of the longest hair.
Pro tip:
Not all companies' product is 'three-level'.
As you can probably guess, there are many products like 'one-level', 'two-level', 'four-level', 'five-level', 'six-level' or even 'seven-level' on the market.
Speak of hair extensions, as a general rule, the fewer kinds of different hair lengths include, the better quality of hair is.
But because there is no uniform standard for the percentage of distribution. As a result, one company version of 'three-level' hair with the same texture, style, and length might entirely be different when comparing with another company.
That's why it's important for customers to have some education on the things they purchase.
Either way, it's essential to choose a trustworthy brand.
Now, you might be wondering:
I have known the terms like Double Drawn, Single Drawn.
But, I haven't heard these terms like 'one-level', 'two-level', 'three-level', etc.
In fact, I create these terms as a simple way to express what I mean…
Now, you know the key elements to understand these series products of Unice.
Yup, that's pretty cool.
But what about Unice's products?
Unice Hair In-Depth Review
When it comes to buying a hair extension, quality is the first factor to consider. To help you avoid getting scammed into paying top dollar for hair which isn't high quality, I will put together multiple aspects that you should look out.
First, let's look at some textures of Unice hair products:
Body Wave
Body Wave hair is one of the most popular hair textures due to its versatility. With the hair, you get an instant deep S-styled pattern of waves for a sea of full lush and voluminous hair. The styling options are endless!
Straight Hair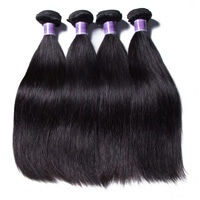 Straight hair is a simple solution for an everyday style. Because of the hair's durability, it is the perfect option if you want an effortless, easy-to-style install.
It looks well. Right?
Now, let's dive deeper into their products and see if it fulfils its promises.
Below I analyse Unice hair according to its authenticity, appearance, tangling, shedding, longevity, processing, heat resistance, shipping, and value for money.
1. Authenticity
Their company claims that its hair bundles are made of 100% original human hair.
Is that true?
To be honest, their hair does feel soft and silky. When I received my hair, I tested it in various ways. As it turns out, it is NOT mixed with animal or synthetic fibres.
In this regard, I can attest to their claim.
But, their hair bundle is NOT from a single donor. This can be problematic. You can end up with a bundle that has hair from three different people.
In reality, more than 95% of hair companies are selling hair that tends to have multiple donors.
In my opinion, it doesn't matter whether the hair bundle is from a single donor or multiple donors. Of course, you may think otherwise.
If you are an experienced hair extension user, you'll know that Brazilian Hair is trendy.
The question is:
Have you ever wondered if your hair weave really comes from India? Or Brazil? Or Peru? Or Malaysia?
Well, sorry to break it to you, but most likely it does not.
For human hair vendors to remain competitive, hair companies market hair as Brazilian, Malaysian, Peruvian, or Cambodian hair. This is a clever marketing tactic that makes the hair appear more exotic and desirable.
According to The Truth About the Human Hair Industry by Alix Moore, Brazilians do not sell their hair, nor do they cut it for profit or religion.
In fact, Unice hair company make a fake claim of importing hair from these countries, including Brazil, Peru, and Malaysia.
Now, To be clear:
It's ONLY a clever marketing ploy.
2. Appearance
Some companies show us pictures of beautiful, natural, shiny, full hair. Their goal is to get customers with attractive images.
Honestly, those pictures extremely lured us for the first few minutes.
In reality, when you receive them, they aren't the same product at all, colour, style etc.
Unlike other companies, Unice hair company has pictures of its actual products on its website, and they show you their real products so that you can make quick decisions.
Well, Unice hair looks beautiful, and the one you receive was the one you order.
The hair was beautiful with smooth, fine texture and lustrous appearance. And It has no grey hair.
The bottom line is this:
UNice hair is as silky as the company claimed it to be.
3. Tangling
Many hair extensions available on the market today have one issue in common: Tangling.
Well, there could be a few reasons why your hair is tangling. Your hair is more likely to tangle if:
Your extension's quality is extremely TERRIBLE
It is super curly and thick
It is very damaged and dry
You don't brush your hair throughout the day
You sleep with your hair down
Maintaining beautiful hair requires proper care. It's no secret. For more care and tips on how to avoid tangling with both your hair and extensions, that's another story.
But first, it's time for me to show you whether Unice hair company's products are easy to be tangling.
We did our research about Unice hair and below are our findings:
The issue of tangling was not much of a problem with Unice hair extensions. Just like your natural hair, their products do tangle very minimal or not at all. That is completely negligible and manageable.
Which meant the manufacturer had used good grade hair in its products.
Specifically, they use high quality, original Remy human hair to manufacture its extensions.
4. Shedding
Unice hair company has been using a double stitch wefts procedure. This ensures minimal shedding.
Double Stitch?
It looks like this…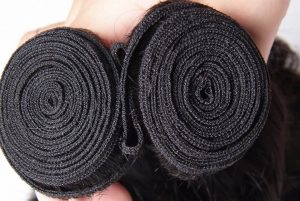 To put the Unice hair weave to the test, I ran my fingers vigorously through the hair to see how many strands fall out.
The result?
It did not fall out any strands.
Remember:
You can minimise shedding, by maintaining your hair extensions with utmost care. ?
5. Longevity
The lifespan of hair extensions will depend on what products you use on them, how often you wear them, and how well you take care of them.
With proper care and regular wear, Unice Hair extensions last anywhere from 6 months up to a year or even longer.
All good right?
Well… Check out the latest video about Unice hair factory:
We can see that they have implemented a strict and complete quality control system, which ensures that each product can meet quality requirements of customers.
6. Processing
The hair products are not chemically processed, meaning that you can dye and style them with ease.
According to lots of our research, we found that Unice hair easily catch colour and the process of hair manufacturing makes no use of colours or silicone.
Unfortunately, some hair companies go for chemical treatments to make their products look good/shiny. There are a few reasons why we think so:
They use poor quality, rejected or unauthentic hair in their extensions.
As a result, hair extensions that receive chemical treatment perform poorly when you try to dye them. It is important to mention here that chemically processed hair extensions are not good for your scalp either.
Normally, the extensions that are chemically treated will give a really pungent smell. And the smell doesn't go away even after shampooing the hair a dozen times.
And what's worse is, the products that chemically processed may create itching or irritation.
So all you need to do is choose the perfect extensions for your scalp.
In terms of processing, Unice hair company does an exceptional job.
In short:
Unice hair is chemical free.
7. Heat Resistance
We conducted heat treatment tests on their hair products.
And one of our findings was that Unice hair extensions could be styled, straightened, and curled.
But:
We recommend only to use a low heat setting of 120C/250F. The reason why we recommend opting for a lower heat setting is that it will prolong the lifespan of your extensions.
Unlike our hair, you may be able to use a high heat setting. This is because our hair is constantly getting revitalized from the scalp, whereas hair extensions don't get that sort of nutrition.
So we suggest to always use a heat protectant spray to styling your extensions.
8. Shipping
The time in which you receive your order will depend on many factors such as the shipping method as well as the location of the shipping address.
Normally, you can receive the package within 3-5 days!
The key point I want to say is about the physical retail store of Unice hair company.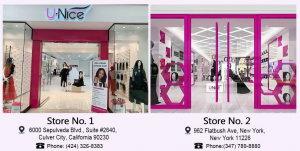 Customers who are not far from retail outlets will enjoy more convenience.
9. Pricing: Is It Worth It?​
Now that we've covered the nuts and bolts of Unice hair, you must be wondering…
How much does it cost?
Unice hair company offers quite a few options to cater to diverse groups of people.
For example, they offer:
Icenu Series 7A Hair Weave – This lets you have enough personal budget to pay for top-quality hair extensions. I would suggest using the lower-cost hair series. Because they will surpass your expectations.
Kysiss Series 8A Hair Weave – There is no too big of a difference between kysiss and Icenu. Compared with Icenu, Kysiss may be fuller. If you pursue gorgeously, this is probably your better option.
Banicoo Series 10A Hair Weave – This ensures you are getting the best quality hair when the price is not a deciding factor. However, the more expensive weave wins every time because of its longevity with proper care.
Bettyou Series Human Hair Wigs – If you're interested in starting your wig journey, check out this series.
When considering which product to purchase, it's important to understand your needs.
Not everyone needs the highest quality hair. Some can't afford it or don't like paying top dollar for hair.
Unice hair company gets it!
So, they offer a broad range of hair types, price, and texture to meet every client's needs.